2019 was all in all an awesome year of cycling for me, it had it all! Very memorable rides, great people, nice personal achievements, a new bike, new routes, new product testing role, and lots of smiles. There were, unfortunately, a couple of set backs….. but we will come to those in a bit. And this year? 2020 holds just as much fun……………
The beginning of the year started really well, indoor training was a blast on the Ribble and outdoor was its usual tough stuff on the single speed. I was clocking up the miles, going great guns until about April. Then my sinus issues reared their head and ruled me off the road for about 8 weeks, triggering more investigations from ENT that are unfortunately still going on now due to appointment availability. Sinusitis lifted and I was back on the bike again, enjoying some great road and gravel rides around the new forest. Although getting the time in was difficult as this year we have two children!
Discovering more of the new forest on my budget gravel bike (CLICK FOR BLOG POST) was a real winner. I know the roads like the back of my hand but off-road is all new, and the New Forest has some of the best gravel in the country. I spent a lot of the summer hitting these up, and loved it.
One standout part of the year was Mallorca, and lucky enough to be my second visit. Earlier in the year I pledged to help local children's hospice Julias House fundraise by completing their Mallorca cycle challenge. A ten strong team of us raise £1000 each and headed there to ride the islands hardest climbs in 3 days. It was tough I tell you! I've never hit that any miles in that short a time. What a place to do it though, and great charity to do it for. Blog post on this coming soon!
Post Mallorca I entered into conversation with Rinasclta. A new name in carbon bicycle component supply. New to supply but not to manufacture, Rinasclta have been manufacturing for OE supply for eight years, they have recently set up in Poland to build a European customer base. One thing lead to another and I ended up landing a role as their UK testing partner. For someone who loves tech and has a hunger for building bikes and trying new kit this was a massive win! With a whole load of offer in their repertoire there will be a lot more to come from this! Check out their website HERE to see the range.
Then came the years big problem. Back on the gravel bike post Mallorca and I was in fine form, buzzing from my previous exploits. But October took a turn. Over enjoyment of the gravel bike I built led to some overconfident cornering on tarmac. I went down, hard. I broke my scaphoid. Now anyone thats does this will know how painful it is, and also the length of recovery. It was no cycling for me for 12 weeks. A painful process for someone who loves to ride.
This pushed me toward another milestone, running my first half marathon. If I couldn't ride I had to do something to keep my fitness levels up. We were off to Miami in December so I signed up to run a half there with by brother in law. It turned out to be the most stunning running event I've entered, and I smashed my target time by 3 minutes. Training for it really took my mind off my broken hand.
So whats to come for the new year?
Well I'm back on the bike and it feels great, wrist held up on my first ride out but more to come on that. I'm set up to test my first Rinasclta product, the integrated aero carbon handlebars. They are fitted, wrapped up, and rode fantastically well straight out of the box.
We are currently having major house renovations. My old pain cave has been demolished entirely rendering my Zwift setup redundant until the building work is over. This will be well worth the wait though as the new room will almost be a custom set up. Although this does mean that until then cycling in the evening……… OUTSIDE…….. is going to be a thing. Good job I've got the kit for it (Lusso winter gear rocks BTW!).
Bike wise I'm feeling a refurb/retro mod continuation. The Ribble may get some upgrades, oval chainrings, tubeless setup, and new saddle are all on the list. The Dawes will get a respray and some new wheels (carbon on a rim brake gravel bike?)….. can't decide between a good ol' fashioned powder coat or a spray bike adventure. Depends on how much time I have…. but maybe something like this.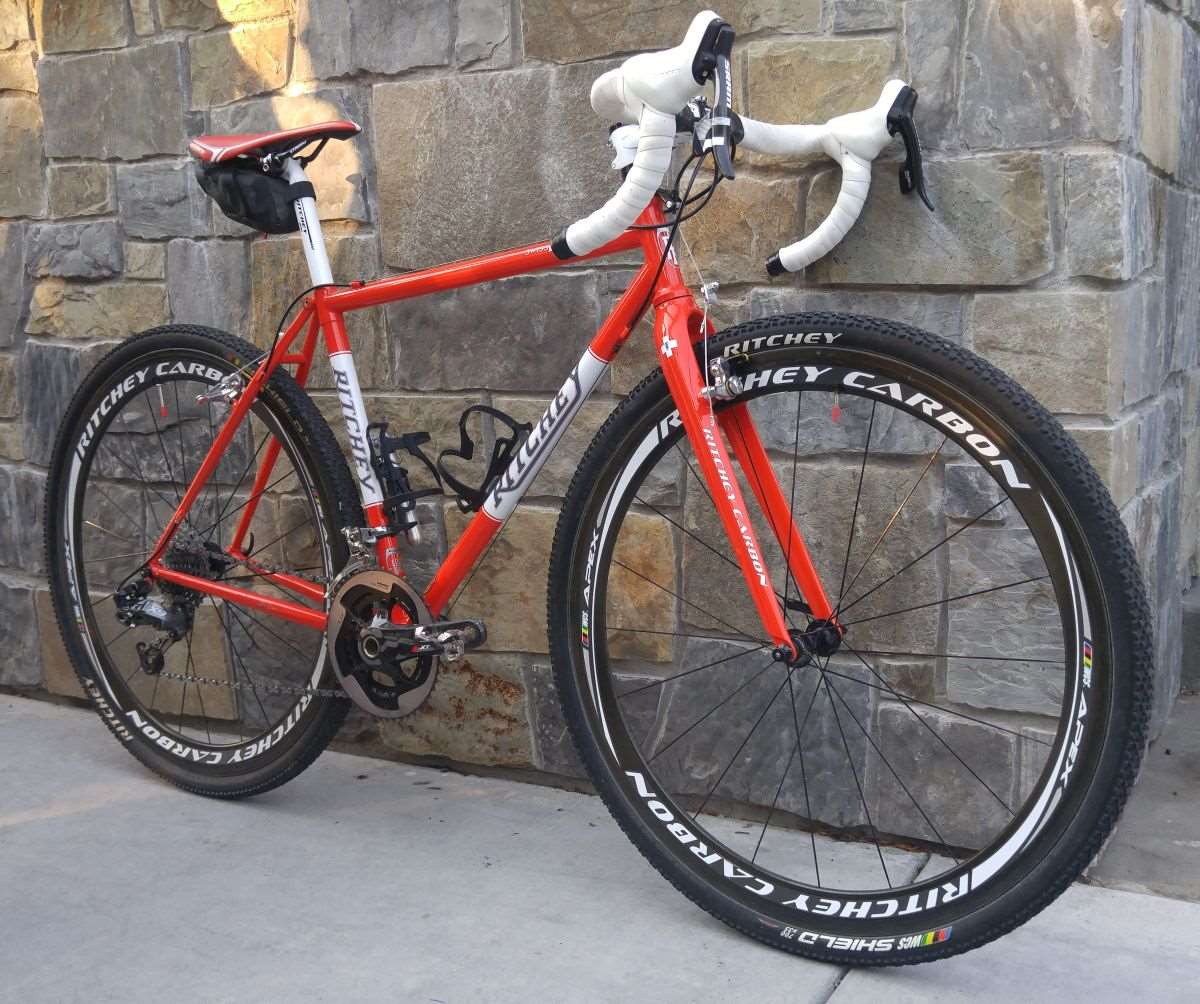 Now to the matter of actually riding a bike……… I want to hit a new mileage record this year, but I'm keeping that to myself, and it will be a tough challenge I just need to get out there whenever I have the chance. Although thinking about what I'm going to have to do to get those chances Its going to be a tough one! Kids, work, house renovations, blah blah blah just like everyone else……. We also have a family trip to France this year to see one of my close friends married, hopefully a small diversion to ride some bicycles as well…… A single speed imperial century would also be a pretty cool hit for this year as well, I've wanted that for some time now……. how about a gravel metric one??????
What have you got planned for the new year? whats your cycling challenge? where are you heading?
Heres to 2020!
BC