This may be a little of a contentious subject but nevertheless one that needs talking about if bike shops, be as we know them or modernised, survive the times ahead. The high street is turning into a ghost town due to business' failing to keep up with change, and the local bike shop (LBS) is not immune! This is definitely an opinion piece so take from it what you will! if you work in a bike shop it may be painful reading….. If you already have your game on point you might agree…. read on and feel free to comment. I'd love to hear your opinions!
Customers buying habits, lifestyles, use of technology, wallet size, and opinions are all being influenced and changed at a rapid rate. Businesses (in general) are suffering with increased overheads, better prepared competition, and keeping up with current demands. Pushed to survive on their ability to be agile and change to reflect buying trends. If you don't keep up you don't keep your doors open, its as simple as that. I work in aftermarket automotive parts supply. I can draw many parallels between what's now happening to the cycle industry from our very own struggles, and the methods that have been used to successfully overcome. I've also worked in a big chain bike store and LBS across 4 years.
There still seems to be a lot of adoration for the halcyon days of the local bike shop (mostly driven by owners who are falling behind). Where the walls were lined with accessories, there were only three types of chain, and having a 24 speed bike required running a triple chainring up front. Do you have some rubbers for a woods valve sir? I fear those days are gone for your regular LBS (local bike shop).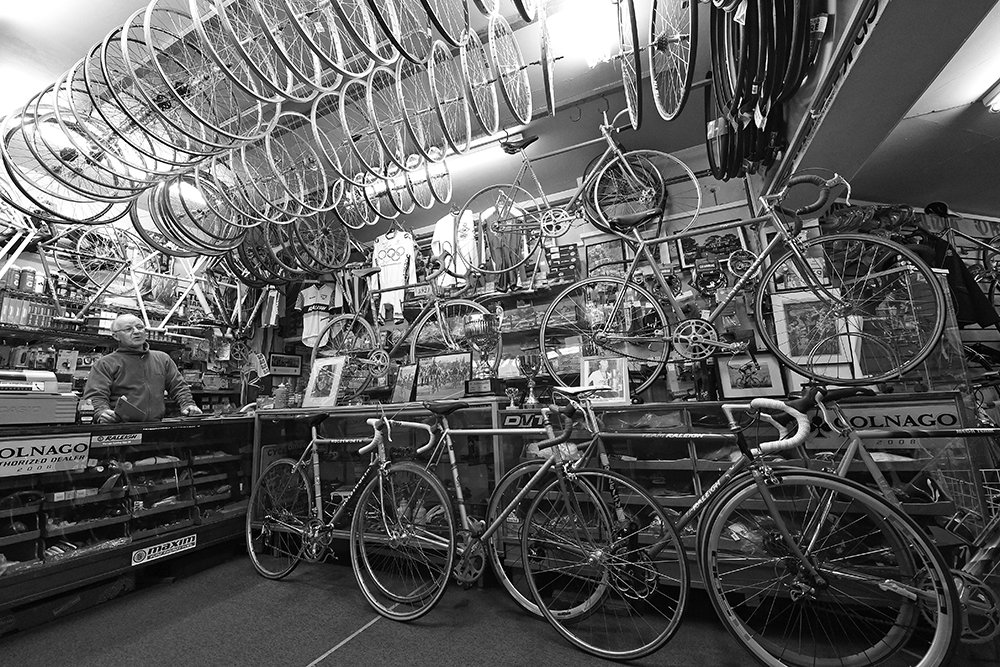 In Bournemouth area we have had two prominent shops shut in the last two/three years. Both main thoroughfare shops, great exposure to the public, and trading for over ten years. In Highcliffe the bike shop closed, in Christchurch a branch of a chain shut. In nearby Romsey and North Baddesly (Southampton) both bike shops shut. Millbrook in Southampton another shut. All of them where what you would describe as traditional shops, walls lined with accessories and as many bikes as they could fit in the floorspace.
We live in and on demand society. Anyone can get almost anything to their door within 24 hours. For everything they need faster they have a corner shop or supermarket, these are FMCG (fast moving consumer goods, ie products that are needed for day to day life) like food. Bicycles and bicycles accessories don't, as a whole, fit into this. The only parts that may do would be inner tubes, tyres, cables, brake pads, and maybe some low cost locks and lights. Ie the consumable items that would be easily replaced to keep them on the road, these are the items most customers would expect to pick up from a bike shop. Now, the internet is an amazing tool (i'm obviously using a web/mobile based blogging site to write this!), it really has shaped modern society. Allowing anyone to become an expert in anything overnight, providing increased exposure for business to new markets, and connecting people worldwide. Also a lot of rubbish on it, questionable motives, and shit memes but hey!
Thats where I feel the trouble starts for the LBS. Twenty years ago, when choice was a little limited, it was relatively easy to stock a complete range of accessories and bicycles from the chosen supplier. With this you would have a captive market, no shop for another 5 miles and no websites to contend with. You couldn't jump on Wiggle or Ebay and have a new set of tyres delivered, it was Michelin world tours in a 28″ or Tioga DH in a 26″ from Super Cycles or nothing else. Sales were high margin and workshop labour topped things up nicely. Now, thanks to the internet and increase in product diversity, no two customers needs are the same. And anyone can get what they need delivered to their door next day. This is far more convenient than a bike shop holding stock, seeing as most people would have to wait until the weekend to visit one. Then there's the risk of the shop not stocking whats exactly needed, and if an alternative is/isn't on offer then will the shop try and flog you something you don't want? ultimately leaving you feeling unhappy. The days of stock reliance in the LBS are numbered, this is where I feel it needs to change to survive.
So how do I think bike shops will survive? In a few different forms.
Traditional bike shops – The most at threat shop. The existing high street style bike shop will survive but the will have to make some big changes in approach. It will be a game of who can hold on the longest whilst their competitors close their doors as the customer base dwindles to the internet or to other styles of bike shop. These guys need to focus on service and repair revenue to cover high overheads, oh and learn to sell. Theres no point having all that stock in place if you can actually convince someone to buy it (this must be done by fitting to customer needs though, most customers are savvy and can sense bullshit easily. Those who aren't will eventually find out if you have ripped them off or miss sold them and won't come back). The ones that survive will have strong connections to local communities, like schools, hospital, and business. Creating a captive marketplace for those who commute by bike. They also need to have a more flexible approach to pricing. If their customer comes into the shop saying its cheaper online they need to price match, sell the benefits of buying from them, or offer a fitting deal on the customers part. On the spot human connection must be their focus. They also need to accept that a lot of what they do is not high science, and the majority of customers use their workshops because of convenience rather than inability. Because of this they need to provide opening hours that fit their clients, late opening, and weekend opening. There's an LBS near me that doesn't open Sundays and I really can't figure out how they think thats a good idea. Although in saying that they once tried to charge me £20 for a brake cable (I promptly told them to get stuffed) so sell enough at that price and you can close whenever you like!
Bicycle workshops – This is how I see the majority of bike shops surviving. Ditching the necessity to stock any new bicycles frees the necessity for a prominent location. A workshop solely for repair and preservation of your bike. Kitted out with just the right amount of accessories, nutrition, and spares to keep you on the road. Hey maybe even a decent coffee machine! One other aspect would be the workshops acceptance of the internet, if they cannot source or are unable to lower the price on their held stock, they would help their customer to source the correct parts or bicycle online and even take delivery so the customer gets the best deal. They will also probably deal in small range of select second hand bikes as well. A setup similar to that of a small car garage, repair your car rather than force a new one down your throat. Bicycle sales are stagnating in the uk and that's not just down to our economy, bikes are generally better built and worth repairing. Cyclists tend to form a bond as well with something they have invested a lot of money in! The appeal of this type of shop to the customer is that they don't have that niggling feeling that taking their bike in for repair will end up with it being written off. Then offered as a knock down deposit on a new bike, only to be found outside the shop in a weeks time with a price tag of five times the trade in value. The other huge benefit of these is the lack of requirement for floorspace, or should I say unprofitable space. Overheads can be kept to a minimum without the requirement to manage shop floor or go through the new bike sales process at busy time, they can have off high street locations as well. Getting a community on social media as well as getting SEO right is key for this though. If they can move enough repair time and some well chosen accessories they are onto a winner. Locally we have two great example of this, Steve at The Bicycle Kitchin and BicycleJacks in lymington, check it out!
The boutique shop – these will survive on community and niche. By having a lifestyle fully catered for and building a close nit community. Current bicycle fashion is bike packing and gravel bikes, and I can't see it going away so a focus on this (especially if you have the perfect terrain for it on your doorstep!) is a winner at the moment. The issue with this shop is that if interests change they have to change their whole ethos! or ensure that they keep their community alive with great group rides, events, and product exclusivity/availability. These shops will have a knowledge and access to the best in their chosen sector, their custom builds will be to die for, so when moneys no object they have their market covered. The Woods Cyclery are the guys around here.
Warehouse shop – I think these will become more common, and replace your LBS. A bike shop in an industrial unit. Cheaper overheads with a combination of warehouse and sales floor, lots of easy parking, and plenty of space for a workshop. Maybe even opening hours that best fit their customer needs? late opening? Most peoples first point of call when searching for anything nowadays is the internet, mostly on their mobile. Is having a high street location really relevant anymore? poor pricy parking, huge overheads, lack of space, and with product that doesn't really appeal to passing trade. When people want a bike or to get their bike fixed, they go to a bike shop. They don't go out shopping for pyjamas and come home with a £2k Giant 29er. SEO and community integration ie contacts and discounts for local schools, hospitals, and large employers will be the big wins here.
Mobile mechanics – These guys aren't going to set anyones world on fire as theres a limit to the scale that they can work to but, overheads are minimal and they can work from anywhere. They can collect bikes, which is super convenient, and will win a lot of business with their flexible working approach. When/if the LBS closes some techs will be pushed into this, so I expect to see more of them. Also with the rise of home spin bikes and gyms there will be plenty of on site work!
Dealer stores – direct from manufacturer stores will start to increase in numbers as the big brands fill out their ranges. Manufacturers like specialised, who expanded their range by bringing in silent partners to manufacture every possible accessory, will play on their ability to retain margins in house and push the smaller boys out of business. With this extra margin they can afford flashier stores and prominent locations, a big threat to the LBS who only get a small cut of selling one of these premium brands. We may even see importers/distributors opening up their own shops on this basis (Madison have already done this with their Freewheel online store and network).
Bicycle coffee shops – Much like the bicycle workshop they will focus on repairs rather than sales but with a community style cafe on the side. A solid choice of accessories mixed with some associated lifestyle products (read aero press coffee makers and keep cups!), mixed with a great place for cyclists of all types to meet means that the community here will be strong. This is the biggest asset to any of the above. In bournemouth we have the excellent Velo Domestique.
From what I see the survival of the LBS is down to a few things. Embracing the internet, and not competing with it. Too many LBS refuse to fit customer bought product. If they cannot match the online price or don't stock that brand then that shouldn't be a slant on their customer. The customer is absolutely entitled to find the best price and choose the brand that they want. If that means the LBS needs to help the customer source and even take delivery of the part or bike then so be it. Why push an opportunity to sell labour time away? or even engage in the conversation of why the stocked choice is actually a better option. (it always amuses me when LBS owners moan that the internet is killing their shop but they will happily go home and watch their amazon prime, order their new toaster for next day delivery, and buy some birthday presets on ebay. Not so quick to hate on Jeff Bezos then are you?). With the internet comes social media and advertising. If the public wants something they search online for it. The LBS needs to invest in website and social coverage, make it something that the customer wants to be a part of. Its never been easier to interact with your customer base. A local-ish shop to me is absolutely killing this, go checkout The Woods Cyclery to see how its done. With the search comes the location of the shop, the map, and the sat nav route. All done for you. Out of town or trading estate locations are totally viable now that anyone can be guided to you in a couple of clicks. Passing trade and high street locations just mean for high overheads, something thats killing the LBS. Passing trade nowadays is the hits on your instagram, the followers on your facebook. Feed them content they want, create and respond to conversations, and start to see what you get from it.
As I said at the beginning this was an opinion piece! and to some the above may obvious, and to others it may seem like sacrilege. All I know for sure is that no-one wants the end of the LBS, and no one wants jobs to be lost. They are pillars of the cycling community, but its simply not acceptable for them to use the excuse 'use us or lose us' anymore. Customers do not respond well to blackmail. So like many other service industry or retail business' they must stay agile, follow customer demands, and be prepared to make some hard nosed decisions to keep going. That doesn't mean it shouldn't be enjoyable, that's all down to the attitude applied!!
Thanks for reading.
BC